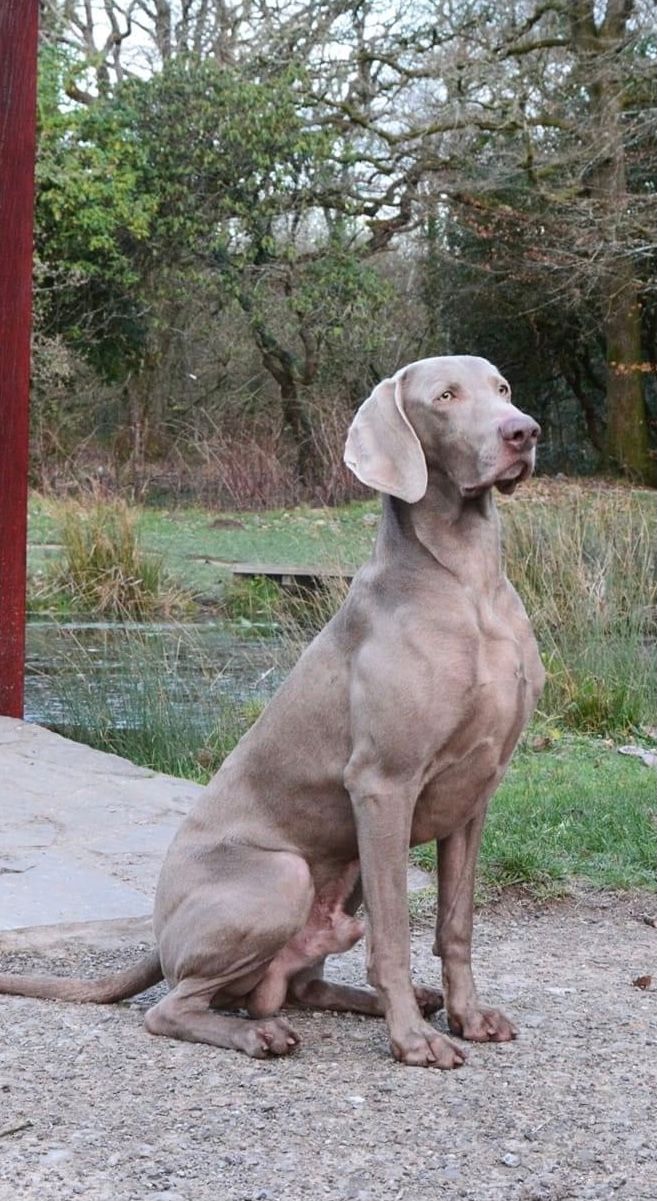 Rivertone Weimaraners are newly  situated in South Wales, I have always loved animals from a young age and grew up with a household full of animals and dogs, always having a keen interest in animal genetics I have studied animal mangement aswell as being a quailfied dog groomer. 
I was first introduced to Weimaraners in 2009 after leaving college and working alongside my good friend Alison Tullett who orgianly had the Rivertone affix and kindly gave me the afix when she moved to Spain , after a few years of researching and getting to know these beauiful dogs I was hooked and after doing some research into breeding lines and pedigrees I brought my first Weimaraner home in 2011 her name MORGANNA MOVING UP AT LIDDLYCLEVE or known as Tia, she was lightly shown as a youngster but didnt enjoy the show scene and is much happier either hunting or sat on the sofa. 
My second Weimaraner came along shorlty after RIVERTONE OASIS AT LIDDLYCLEVE or Cooper he was a true gent and taught me about showing he had a good start to showring,  our best moment was  winning junior dog at Crutfts in 2015 he was the sire to my first litter , sadly Cooper was tragicaly taken far to soon . 
Holly Liddlycleve Lavinge  was my first home bred Weimaraner and was the result of my first homebred litter, she has had sucesses in the showring  winning a RCC at sixteen months shortly followed by Hugo Rivertone Rudolph he has turned out to be my once in a lifetime dog he is a pleasure to show and has good sucess recently winning his way out of limit , not only is he a showman but he works throughout the shooing season and is my consatnt companion never far from my side.
He is the sire to my newest Weimaraner Rivertone Head Above Water (Bonnie)
In recent years I have been asked to judge Weimaraners at open show level, I have taken various breed seminars and continue to study the breed .  2021 -2022 . Iris Won her third CC at crufts 2022 making her into a show champion while sister bonnie was awarded the RCC , thank you to all the Judges 








We are members of several breed clubs and breed for temperament and sound conformation. We breed occasionally and our puppies are available for show, working and pet homes. 
  
PLEASE NOTE THAT I DO NOT BREED OR PROMOTE BLUE WEIMARANERS, stud dogs will only be available to bitches not carrying the blue gene.